Here's our most recent mobile friendly website for the Padstow Christmas Festival.
The Padstow Christmas Festival is an annual event held in Padstow. Amongst other festive things the festival boasts a huge line up of top chefs, mainly from the local area, but also from all over the world.
Last years website was not a mobile friendly website, so that as well as improving the navigation to be more user friendly were top priorities.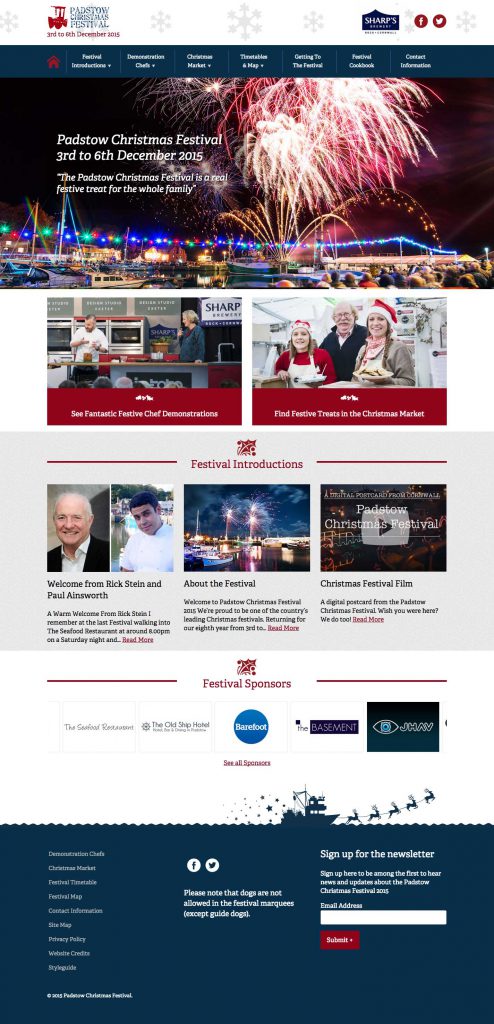 The new mobile friendly website is built on WordPress and of course is fully editable by the client. The site features a full width homepage slider, embedded videos, an interactive Google map, a newsletter sign up, plus featured chef biographies, sponsors, and all the food/drink market stall holders providing their delicious wares at the festival. There are few nice touches on the site to look out for – such as Santa's fishing boat in the footer (scroll to the bottom of the page before you miss him!) and the tumbling snow flakes in the header.
If you are after a mobile friendly website, please free to drop us a line here or contact our Bristol office on 01761 690019 or our Taunton office on 01823 765171.