Helping a Sports Surface Company get back on track.
Mark Jeffery, Director of 4Runner Ltd approached us to redesign and develop a new responsive website to promote their elite Sports Surfaces in Bristol. They had a few problems with their existing website that were highlighted with a search to find out how many of their pages were being indexed on Google.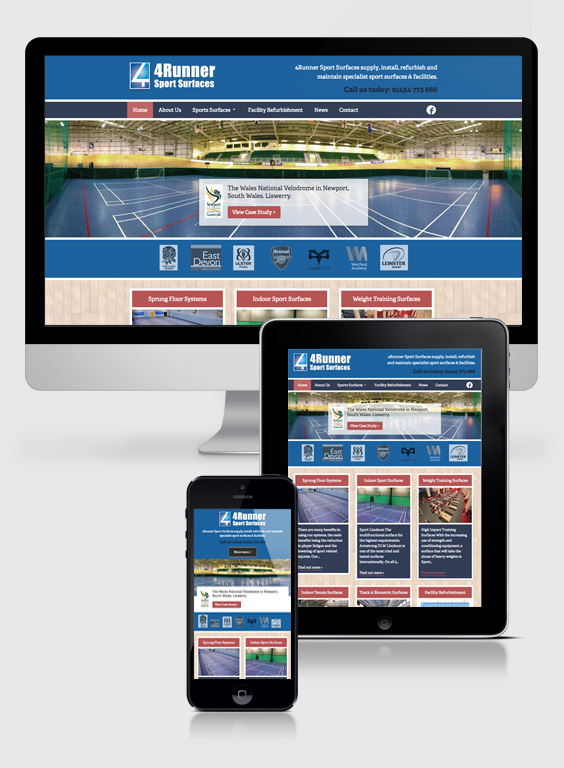 We identified their website data was hosted on a different domain, and not on their main domain of 4runnerltd.co.uk. The data was being pulling in via an iFrame from a different domain. It was also all being pulled into the same page, so for example if you clicked on one of the buttons in the main menu (e.g., Tennis Surfaces), the url didn't change from 4runnerltd.co.uk, whereas it should have had it's own unique permalink extension, hypothetically this could have been something like 4runnerltd.co.uk/tennis-flooring/. This was the reason that search engines weren't able to list all their pages. This makes Google assume that the site is smaller than it actually is, plus they would also be penalised for having duplicate content on the two different domains.
Pulling all of the content from an external source also resulted in slow loading times. we recommended the site be self hosted, as quick page-loading times are a key factor to increasing visitor numbers, as on average, users will stop trying to view a site if it takes more than a few seconds to load.
We also noticed that the site was hosted on WordPress.com, which isn't a great plan for a professional business as it's limited in what it allows you to do with the site. A better, more professional solution is to run a self-hosted version of WordPress, as a self-hosted WordPress site has a number of advantages over freely hosted sites. With a self-hosted WordPress site, you have complete control over your code, so you can implement any theme, modify it entirely, or create your own. You can add any plugin you want, and then customise the code. The application's code is completely open, allowing you (or a developer) total access to modify, tweak, or explore what you want.
Several design improvements were also identified in order to further improve the site's conversion rate, along with some security enhancements to reduce the chance of the site being the target of hackers, which is a fairly common occurrence with WordPress websites.
All the website issues are now resolved, plus the new website now has a fully functioning blog that the client can update themselves to further grow the website, enhancing their visibility to search engines such as Google. We also brought their extensive client base to fore, communicating immediately they are entrusted with fitting, replacing and refurbishing sports hall surfaces for some of the biggest names/brands within the sporting industries, such as the RFU, Premiership Rugby and Football clubs and some of the recent Olympic venues around the country.