At SketchCode Studio we deal with a range of clients; from those that have all the content and images ready to go in, to those that have neither. As well as the many clients that are in between the two extremes. We find some websites are designed and built within days and then there are others that are left hanging, waiting for the content and images.
It's important to have you online and up and running with as little disruption as possible. This is why we work quickly and efficiently. We like to see our sites live, working and benefitting clients ASAP! Believe me there's nothing worse than having a fully designed and developed website waiting to go live bar a few pics or words!
We understand that many clients are busy running their own company during the day and finding the time to sit down after work to write engaging content can be difficult, especially if you have family commitments as well. Luckily though, SketchCode Studio are the complete website design package. Our team of multi-skilled designers can take out all the hassle and stress of getting your business online.
When we take on your project we offer the complete package:
Designing
Building/Coding
Photography
Content Writing
Hosting
The Design Stage
After our first meeting, we will understand who your target audience is, we'll discuss in-depth what you do, sell or offer. We'll look at your existing colour schemes, logos, print work and sometimes existing websites. We will then go away and produce the first concept designs based on the information we have gathered (we will also make suggestions to improve user experience if we feel it's required).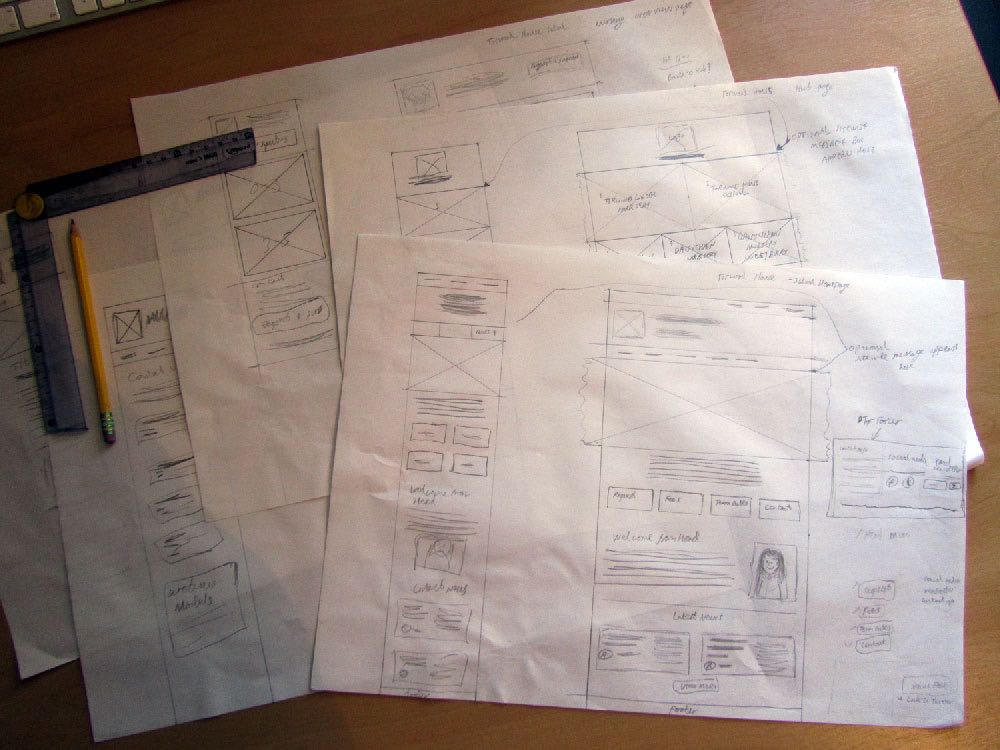 After a final visual has been approved, we get down to business and start coding. We will code your site to look exactly like the visual and make sure it has all the features you want in it. To mention just a few we can add a contact form, blog feeds, image sliders and social network integration. When coding we will also make sure it's performance optimised. This means your website pages will load fast ensuring not to lose your website visitors attention.
Photography
You can literally spend hundreds of pounds commissioning a photographer or you can ask us to do it for you. To get you off the ground, we usually spend half a day or sometimes a full day (depending on the requirements) to get the images, at the quality needed, at a fraction of the cost.
Check out our Flickr account to see some of the images we have taken for satisfied clients.
Content writing
The content we write is SEO (Search Engine Optimisation) standard. This means your pages will rank better on search engines such as Google or Yahoo. Of course we aren't experts in every field of work known to man so we can only produce engaging content once we fully understand what it is you do. We would normally discuss this at our initial meeting, but if we need clarification we'll ask more questions, as you will always know your business better than we do.
To make this process easier we will provide a briefing document asking all the relevant questions we need answers to.
Hosting
Finally, the hosting of your website. We remove all the stressful hassle that comes with hosting. We'll send you a link to a hosting company that we recommend (OpalStack). You simply sign up by following the easy on-screen instructions. The reason we ask you (the client) to do this is so you always remain in control of your own hosting. Plus you don't have to pay us any set up costs relating to the purchase of your hosting. More importantly, we have many clients come to us who do not know where there is existing website is hosted because some other company has set it up for them. This can lead to many complications, especially if they have parted company on not very good terms.
So, do you need a website?
If you need a website; designed, built, content written, images taken and hosted, contact us today.